The Kings Arms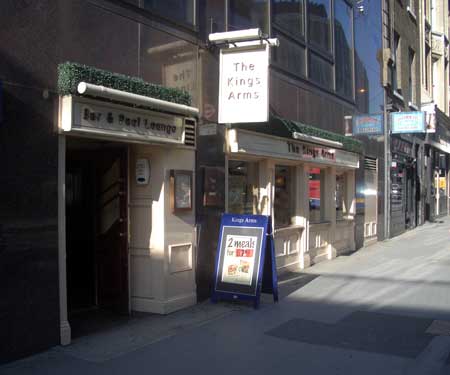 The Kings Arms, 27 Wormwood street, City of London. EC2M 1RP
Overall Rating : **

**

*
Telephone : 020 7588 4655

Reviewed : 24th November 2006

Chain : ?
Facilities : Downstairs Pool bar, Fruit machines, Game machines, Beer patio

The Kings Arms occupies the ground and lower ground floor of a modern block on Wormwood Street, not too far from Liverpool Street. The ground floor offers a traditional Essex run down boozer, fruit machines, sticky carpets and smoky atmosphere. The beer quality is pot luck, sometimes reasonable sometimes not, sticking to lager is best. The tables look like they need a good clean even when the glasses are taken and it's given a wipe down. It is possible to walk all the way through the pub and come out in the lane behind, a couple of tables and chairs offer reasonable enjoyment in the summer months. Downstairs is gaming bar, with more fruit machines, game machines (golf, shooting) and pool tables all served by another smaller bar. Service has always been swift on my visits to The Kings Arms, although on quiet days getting a beer from the bar downstairs can take longer than you would like.



Index | links | Join
Pub List | Find a Pub | Pub News | Best Pubs | The City | Boundary | Updates | About | Contact